The capital of Estonia and at the same time the largest city of the country, has an attractive mix of history and modern culture. The city center offers many fairytale charm in its medieval streets and old church towers. Great for a city trip or incentive!

Tallinn is known as an important political, financial and cultural center. The city has nice restaurants and the tech scene is growing. There is a difference to make in the old and new part of the city. The central location is Vanalinn, the historic city center that still has many medieval elements. Next to the city walls you will find much modernity that is still being worked on. In the past, this part mainly consisted of typical Russian housing blocks, but since Estonia gained independence, Tallinn is undergoing a transformation. Not only the looks of the buildings in both parts of the city are different, the atmosphere is also very different. The center is touristy and unfortunately also a bit pricey. Outside the city walls, life is more comparable to ours. You will find both locals and tourists here.
What is special about Tallinn is that the city wall is still largely standing. If you take the stairs, you end up walking over the wall which provides you with a beautiful view over the city. For an even better view you have to be on te television tower. This tower is 314 meters high and thus the tallest structure of Estonia. A lift takes you to the 22nd floor where you get to see the promised view.
ALEXANDER
NEVSKI-CATHEDRAL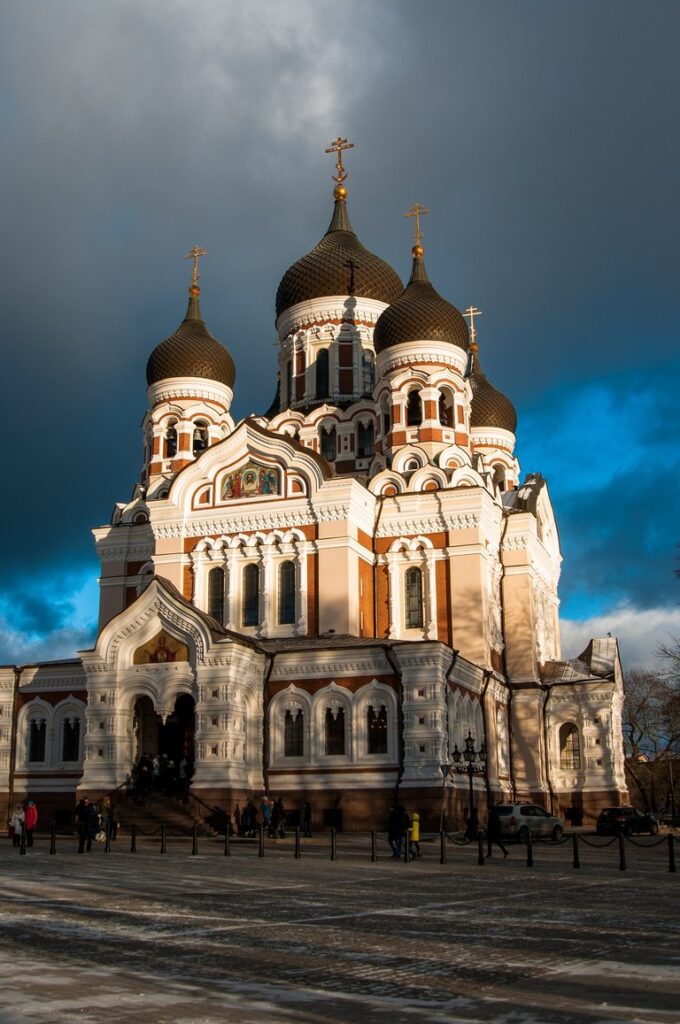 It is wonderful to walk through the winding streets of Tallinn early in the morning when everyone is still awakening. Start your walk on the Town Hall square and then explore the surrounding streets. Then relax on the Kohtuotsa or Patkuli Viewing Platform. Nice to know is that Tallinn has much cleaner air than many other European cities. You will also find a lot more nature and lots of parks. One of them is the Kadriorgpark just outside the center, where the Kadriorg Palace is located.
The crown jewel of the city is the striking Alexander Nevsky Cathedral. This cathedral is located on the Toompea Hill and is indispensable during your visit to Tallinn. Another part of town is in the Kalamaja district, an old fishing district. Kalamaja means fish house, in case you wonder what the neighborhood owes its name to. Nowadays the district is full of big houses where factory workers live.
Do you want to see even more of the city than just the famous sights? Then rent a bike and go on a tour! Do you want to see even more than just Tallinn? Then it's nice to take a boat to Helsinki or take the bus to Riga and continue your city trip here.