Madrid, the capital of Spain which is centrally located on the Iberian peninsula belongs to the biggest cities of Europe. In total the city has three million inhibitants and another 6 million in the metropolis. Because of the historical charachter, many cultural events and the really pleasant atmosphere, Madrid belongs to the top destinations in Spain.
When visiting Madrid, you are treated to a clean, safe and pleasant city where a sometimes cold and business like atmosphere is alternated with lovely squares, streets and places. Who visited Madrid once, will without a doubt lose their heart to this Royal city.
The funny thing about Madrid is that the locals are seen everywhere you as a visitor come, too. On a sunday morning you can find them en masse at the big open-air market El Rastro, they enjoy the sun at the Parc del Retiro and have dinner next to you in one of the tapas bars at the Calle Cava Baja. If you speak one or two words in Spanish, you get yourself some Spanish friends in the blink of an eye and you will have a great time. Besides you can get to know the locals in many different ways and discover how friendly they are.
WALK OVER THE
BEAUTIFUL SQUARES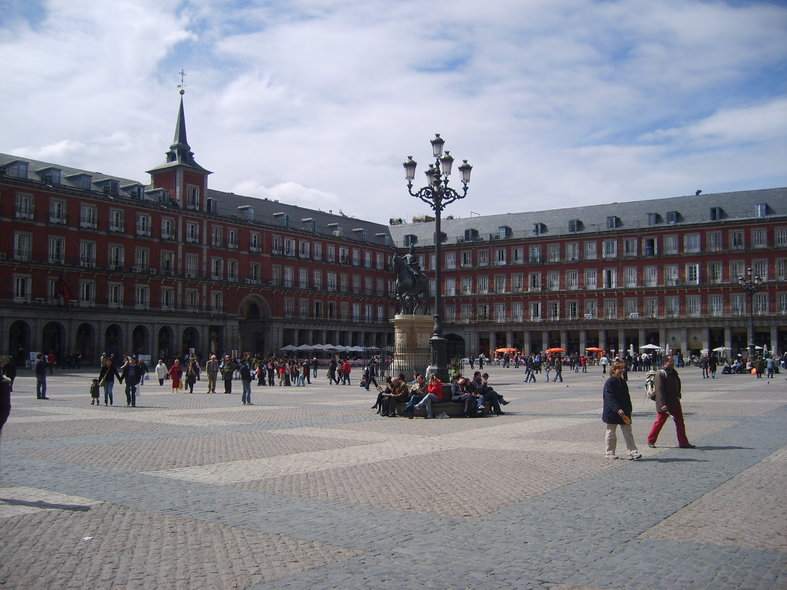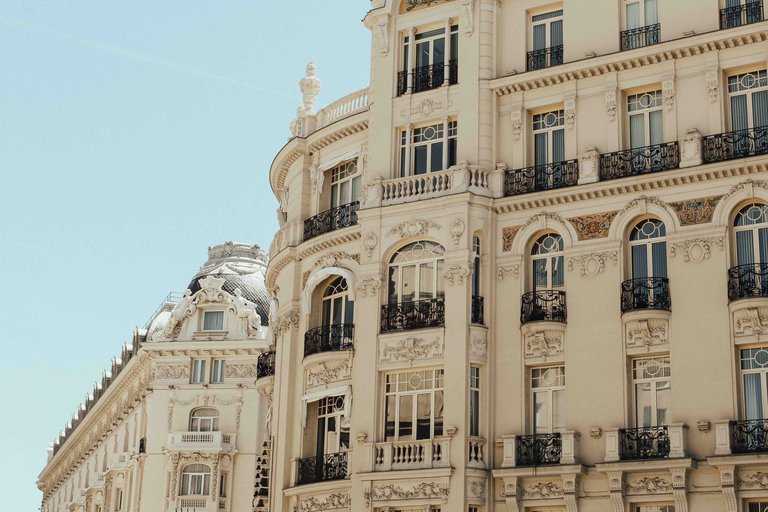 A CITY FULL OF
CULTURE AND ARCHITECTURE
One of the most well known squares is Plaza de Mayor, but you should not forget to stop for lunch at the smaller, less known squares. Sometimes you bump into interesting art and graffiti creatures on walls and houses. During a walk, make sure to stop at one of many local fruit and greens farmers or a tiny coffee bar. The warm feeling Spanish people give you might even be nicer than the Spanish sun. From Plaza de Mayor you walk in a southerly direction to La Latina district. On sundays you find Europe's biggest flea market El Rastro over here. It's a little touristic, but still impressive to see so many stalls together. If you take a close look, you will find a unique treasure between all the touristic shirts and caps. Besides that, La Latina is the stage for energetic dancing groups, frenzied artists and surprisingly good musicians.
For a drink on one of the coolest roof terraces of Madrid you should go to Circulo de Bellas Artes. In this building readings are being held, art house films are being played and shows take place. For some creativity and a view over the city this is the place to be!
Spain's proud what art concerns is, of course, Picasso's "Guernica". This giant painting shows so much activity that it's almost like you're watching a movie. It tells the tragic story of the Spanish civil war and agitated many. This painting and many others are found at the Reina Sofia museum. The most famous museum will always be the Prado, the museum that contains the most valuable collection of 15th to 19th century art of all. It's typed as real 'Royal art': art that is collected by Spanish kings since the 16th century. It can be said that this art has come straight out of Royal Palaces!