100th anniversary in Bilbao
On September 29, the Korff de Gidts Makelaardij team left for Bilbao for the 100th anniversary with a group of 13 people! They had already chosen a destination themselves and we further organized their trip from there. Sandra talks enthusiastically about their experience:
"On Thursday, after a considerable delay (but that didn't spoil the fun), we flew from Amsterdam to Bilbao. Fortunately, our guide Susanne was ready with a transfer that took us to the hotel. Around 8:00 PM (in accordance with Spanish times) we walked to beautiful restaurant Café Iruña, where we immediately enjoyed traditional pintxos in a Spanish atmosphere! On Friday we got up in time for a city tour with our guide Susanne along the Mercado de la Ribera and a visit to the famous Guggenheim Museum. Wow! What a very cool and impressive building and beautiful modern art.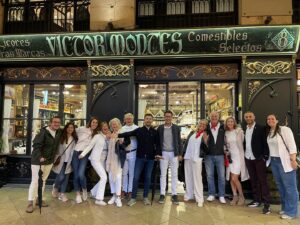 In between, a lunch was planned with of course delicious pintxos. The tour took up a large part of the day. Everyone then had another 2 hours to discover Bilbao for themselves. In the evening we enjoyed a delicious dinner at Victor Montes in a beautiful separate room.
Off to San Sebastian
On Saturday we left with a transfer bus to San Sebastian, which is about 1.5 hours from Bilbao. Once there, we got on our bikes to explore San Sebastián. Another completely different city with a beautiful bay located by the sea. After this we had a delicious lunch with a sea view at restaurant La Perla and then had just a little time to take a dip in the sea because the weather was beautiful.
In the evening we made a typical pinxtos tour in the old center of San Sebastián. At 3 different restaurants we went to enjoy all kinds of delicious pintxos one more time!
On our last morning we had an early breakfast and were surprised by a beautiful sunrise over the bay of San Sebastián. Then we flew back to Amsterdam. It was an amazing trip with our team that we will not soon forget!"