Our lucky bastard Martijn was allowed with Iris Mertens | Destination Promotion on a 5-day study trip to Brazil! Here was a cool and full program put together by Mauricio Travels. Martijn gives a short (or at least he tries to) recap of the trip including all activities.
"On Thursday, November 17, we departed from Brussels with TAP Air Portugal via Lisbon to Natal, where we then stayed for 1 night. Natal is a big city with not much to do, so most tourists travel on from there.
The next day we traveled to the next village: Pipa, a very nice hippie spot. Once arrived in Pipa we did a beach buggy tour through the second largest dune field in the world, Genipabo. We regularly stopped at nice places for lunch, cocktail, swimming and ziplining. The buggy rental company has about 500 buggies in its 'fleet', so it is also a fun activity to do with a larger group.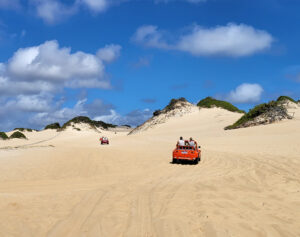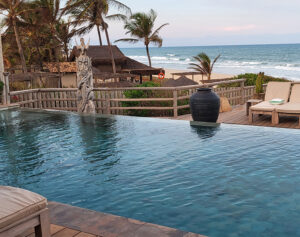 Around 16:00 we arrived at the luxurious Ecolodge Filha da Lua where 3 nights were booked. I really loved the fact that the bungalow I slept in was much bigger than my own house. In the evening we enjoyed a delicious dinner at the lodge.
Saturday morning we got into quad bikes for a tour of the coastal villages and at the end we stopped at a beach where we ate traditional crab. Later in the afternoon we followed a cocktail workshop at the Semper Vivo Hotel. Of course we made Caipirinhas! Then we did some shopping in town and enjoyed the beautiful sunset. We had a nice dinner at an Italian restaurant, Cicchetti.
Pipa is a true surfer's paradise. On Sunday we started the day with a surf session at Praia Do Madeiro. Since I'm 2 meters tall and my balance is very hard to find, this wasn't a huge success for me, but it was fun to try. After surfing we boarded a catamaran for lunch and cruised on the inland lake Tibau do Sul.
At the end of this nice afternoon we had dinner at Pandoka, a restaurant on the beach with a laid back atmosphere, picnic tables, feet in the sand. Totally hippy vibes. There was also a capoeira performance, very nice!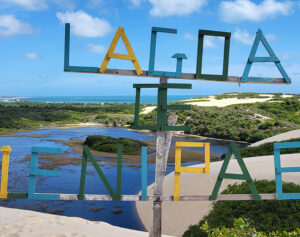 Monday was the last day. In the morning we had breakfast at Toca Da Coruja, a resort that is located in the jungle and has a place in the top 3 of best hotels in South America. Then we visited the voluntary English school Hello Pipa. This school aims to teach the Brazilian population English. Super cool initiative! We were asked to bring an English book so that they could learn from it. After lunch we left for the airport and the trip was already over!
I would really recommend Brazil to everyone, even though I was only able to discover a small part of the country. Reason enough to go back again!