New York City: the American dream. A city trip to this big city has everything in store to imagine yourself in a movie scene with your company as a main role. Walk through Broadway or visit Times Square for an unforgettable experience. The big lights will inspire you! New York is full of attractions. Sail to the Statue of Liberty by boat, dwell upon Ground Zero or surprise your taste buds in Little Italy. 
Get the elevator to the highest floor of the Empire State Building and you will exactly understand why New York is called 'the city that never sleeps'. New York is full of energy and will definitely never get bored. Manhattan and Brooklyn are the place to be for an incentive, in a city that keeps on renewing!
The city doesn't need much explanation. From Wall Street, Central Park, Times Square to Broadway and the Statue of Liberty. The versatile city will never get boring. Get a sporty start of your day in Central Park, visit different highlights and end the day with a cocktail on the rooftop while enjoying a beautiful view over the city. Pay a visit to the Meatpacking district and walk through Chelsea Market and High Line park. Or go to the Meatpacking District by dinner time and enjoy a Mexican dinner at Dos Caminos or get your hands on a steak at The Standard Grill. Literally taste the culture of the Lower East Side? Discover one of many food stalls and go find yourself the most delicious dish out of all the different cultures. Getting to know a district by eating food, does it get any better than that?
New York is not only iconical because of her buildings, but also because of the food and drinks you find in this city! Of course you wanna have a pile of american pancakes, a cream cheese bagel or a slice of pizza while you're in New York. Lover of sweet delicacies? Then Magnolia Bakery is the place to be. Rather have a juicy burger, fully New York style? Five Napkin it is! For a bite of fastfood you should look for Five Guys or Shake Shack. Of course you can also just go to good old Mc Donalds or Burger King.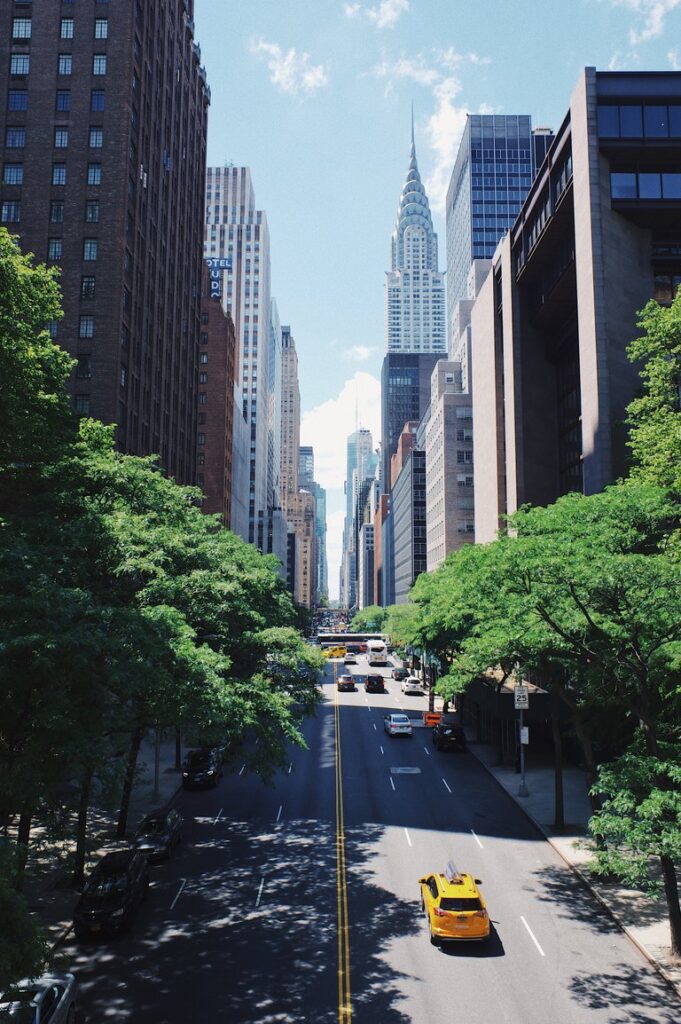 DISCOVER THE
STREETS & BLOCKS
New York is full of nice restaurants spread around the city. We would love to share our tips with you!
For a good breakfast you should go to Toby's Estate Coffee in Williamsburg, Brooklyn. Another real recommendation is Tao Downtown, located in the Meatpacking District. In this Asian temple you can (surprise, surprise) enjoy Asian dishes. You can also eat at the rooftop of 5th Rooftop and Penthouse to enjoy a lovely view over the city. During your visit to Chelsea Market, you should bring lunch to have a picknick at High Line Park.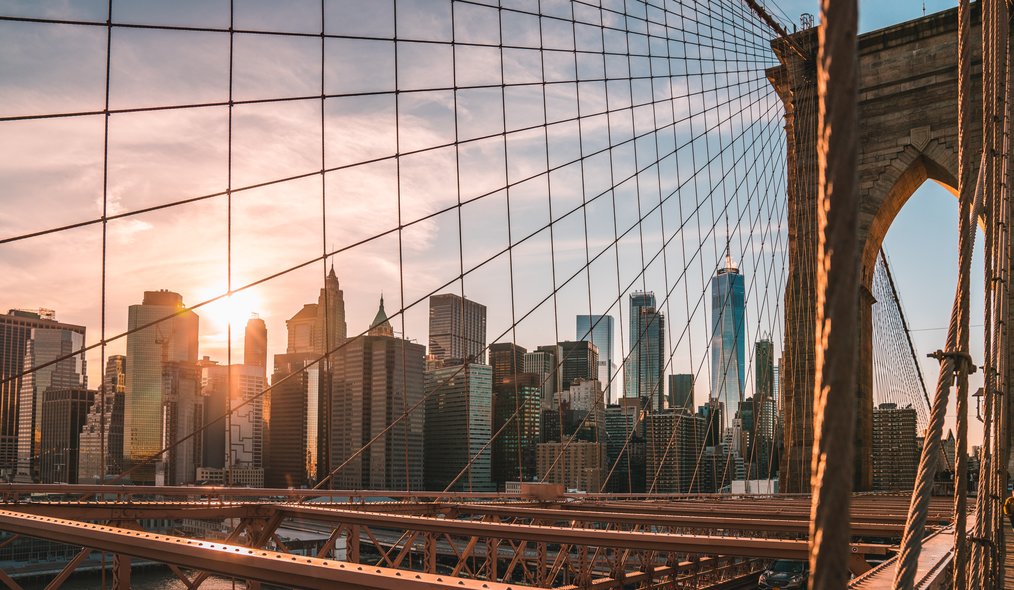 CYCLE OVER THE
BROOKLYN BRIDGE
GET AMAZED
AT TIMES SQUARE