Our Office Assistant Iris has just returned from a 2-week trip to Kazakhstan. A unique destination that you don't often hear about and where people even ask: "What are you doing there?" Iris tells extensively about the cool trip she has made and why Kazakhstan definitely belongs on your bucket list.
The most impressive trip of my life
On Monday 31 October I departed from Schiphol for the most special journey of my life; a trip to Kazakhstan. Most of the friends and family I spoke to didn't know what to make of it, or even worse, they didn't even know where it was. "What are you going to be doing there?" was the most frequently asked question. "I have a friend from Kazakhstan and I will visit her and travel around". Last six months I was in class with a girl from Kazakhstan. She was here as an exchange student for 5 months. We worked together a lot, met outside of school and became friends. Before she went back to Kazakhstan I also invited her to my home and they showed me my place of residence and surroundings. When we said goodbye, she said: "I hope that one day I can show my country to your side". That always stuck with me, until I thought, why not?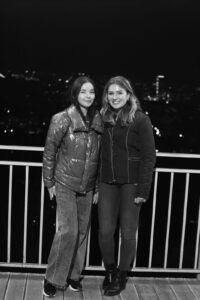 The first days in Almaty
So off I went. On Monday 31 October from Schiphol, to Istanbul, to Almaty, the city where she studies and lives. I was met at 06:00 in the morning by Marua and her boyfriend. In the taxi to her apartment we couldn't believe our luck and I looked at the surroundings and realized that I was really there. I spent the first few days in her apartment, which literally only consisted of a hall, a room of a few square meters with a kitchen and table, a small bathroom and two bedrooms where four girls live together. They were all so caring and curious about me as a western girl. I slept here the first few days to explore the city of Almaty with Marua. This is a bit different from Amsterdam, even bigger, even more massive, even busier in traffic, even more people. The city is beautifully surrounded by beautiful nature and high mountains. I visited different parts of the city alone or with Marua, including the shopping street, several parks, Republic Square, the Russian Orthodox Ascension Cathedral, Central State Museum and Kok Tobe (the highest viewpoint in the city, where we cable car).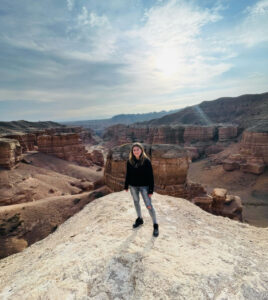 Charyn Canyon
We also did a private day tour together with our own guide to various nature reserves around Almaty. Get up at 04:00, be picked up at 05:00, you have to do something for it, but oh how beautiful it was. At 07:30 we arrived at Charyn Canyon, an ancient canyon tens of millions of years old. No one was walking at this time, so we could enjoy the silence as we walked through the canyon and watched the sunrise. We then drove on to Black Canyon and ate a traditional lunch at a homestay and continued off road. We went hiking at Lake Kolsai and on horseback through the mountains to Lake Kaindy. We traveled many kilometers on foot, on horseback and by car, 16 hours on the road, but an unforgettable beautiful day.
Once in a lifetime experience
On the weekend we flew to the capital Astana, very different from Almaty. It is located in the north of the country in the steppe area. So there is nothing but steppe around the city. Astana is really a business city, comparable to Rotterdam. High skyscrapers, many offices, schools, hotels. You can tell by the people that they are really focused on business, while people in Almaty are very calm, open and helpful. As a surprise for Marua, we stayed at The Ritz-Carlton hotel the first night, a once-in-a-lifetime experience for her, in such a luxurious hotel. Pure enjoyment. The rest of the weekend Marua stayed with her friend Aida, who showed us a lot of the city, such as the symbol of the city Baiterek, the shopping center Khan Satyr, the Expo center, the food market, Atyrau bridge, the Nur Astana Mosque and Grand Mosque of Astana (the largest mosque in Central Asia). Very impressive to see everyone. The last day in Astana I spent alone. We walked a lot in the city and did some sightseeing such as along Ak Orda (the president's house), Independence Square, Palace of Peace and Reconciliation and the Hazrat Mosque.
From the city to the snow
After the weekend I flew back to Almaty for the last days. I visited the Kok Green Bazar (largest covered market in Almaty), lit a candle in the Ascension Cathedral and walked through the city. In the evening I had dinner in a traditional restaurant with old Kazakhstani dishes, such as lamb heart in cream sauce and dishes with horse meat. Very crazy, but fun to try. The last few days I even experienced snow in the city. We went by taxi to the south of the city where the Shymbulak Ski Resort was located and the Medeu ice skating ring in the mountains. With a cable car we went to 2200 and 2860 meters. What a beautiful white environment. Fortunately the sun was shining, because at the highest point it was even -10 degrees and we saw some people skiing. In the evening we went ice skating in Medeu. What a beautiful setting between the mountains, a perfect end to a beautiful trip.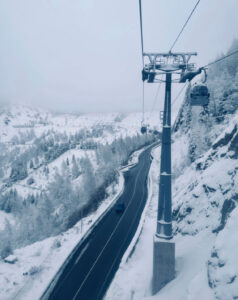 Because Marua sometimes just had to go to school or work, I was partly alone and partly with her. My first trip alone so far, but what an adventure. The beautiful nature, heart-warming culture, helpful people, contrast between millions of cities and nomadic mountain peoples, Islam and Christianity standing side by side in society. The photos contradict all prejudices. Kazakhstan is a versatile and beautiful country. You might not think of it first, but it's definitely worth it!