Have you ever heard someone say they don't like Spain? We neither. We also have a pearl of a city that we would like to tell you the ins and outs of.
Bilbao, once a gray industrial city, has now grown into a hip, gastronomic place where culture and art breathe. These 4 elements are the recipe for a real tourist attraction and that's about it.
The magic ingredient to make Bilbao such a popular destination lies largely in the Guggenheim Museum, a museum of modern art. About 1 million visitors annually admire the art that this popular place has to offer. You don't even have to enter the museum to admire cool art. Outside the museum, for example, you will already find the 'Puppy of Bilbao'.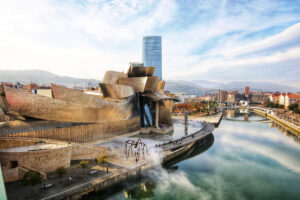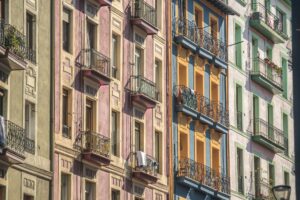 The river Nervión has also been renovated considerably, which has also ensured that tourists know how to find the city. Where the river was previously avoided, it is now a bustling place where people come to relax.
We recommend planning a day or 2-3 for a visit to Bilbao. You can fly there within 2 hours, which makes it a super attractive city trip destination anyway!
Enjoy Basque wine and pintxos (small bites of bread slices with something on top).
De inwoners van Bilbao associëren zich over het algemeen niet met 'Spaans zijn'. Ze zijn namelijk 'Bask'. Baskenland is een autonome regio van Spanje dat eigenlijk het liefst een afzonderlijk land wil zijn. Basken zijn enorm trots op hun titel als Bask!
Voetballiefhebbers kunnen hun hart ophalen bij Athletic Bilbao. Deze club staat bekend als de belichaming van de Baskische mentaliteit. De club zit al sinds het allereerste begin in de Primera División. Best knap als je bedenkt dat niet-Basken niet welkom zijn bij de club en ze dus alleen maar spelen met Baskische spelers.
Ondanks dat de stad geen shopping walhalla is, kun je er prima winkelen. De grote winkelstraat is Gran Vía de Don Diego López de Haro, hier vind je vooral ketenwinkels. In de wijk Indautxu kun je ook heel leuk shoppen!
Vanaf Bilbao is het zo'n 1,5 uur met de bus naar het nabijgelegen San Sebastian, wat ook zeker een bezoekje waard is. Combineer deze twee voor een goed gevulde en afwisselende citytrip!