The sparkly capital in the western of Bulgaria with over a million inhabitants is also the biggest city of the country. Sofia is not too touristy, really wallet friendly and perfect for a city trip! Discover a little Soviet history which is hidden in the city, enjoy the holy yogurt that seems to give you the eternal life and visit the impressive Alexander Nevsky Cathedral.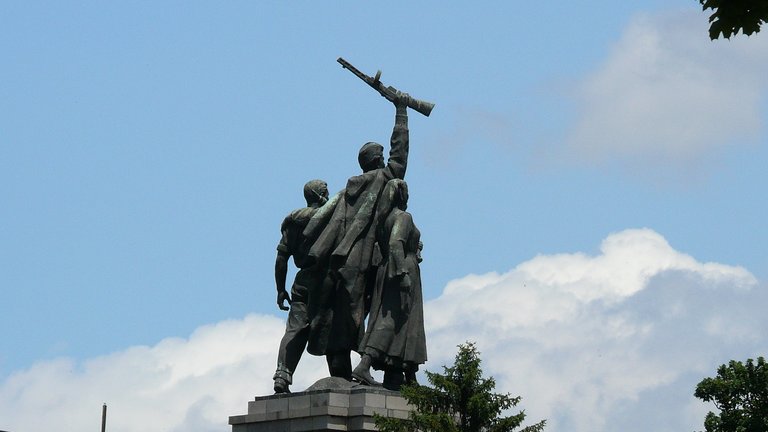 GET INTO THE
SOVIET HISTORY
The St. George Victor Rotunda is also definitely worth a visit. This is the oldest Romanian building the city has left and is still used as a church. Another extraordinary attraction is the Synagogue that is located in the middle of the center. In addition, enjoy the Bulgarian yogurt that is claimed to be helping you turn 100 years old! The holy ingredient is a particular bacillus that gives the yogurt an immortal touch.
During the summer, the city knows a pleasant climate with temperatures that go up to 25 degrees. During winter, however, Sofia can turn into a winter wonderland! Sofia is known for her 20th century mineral baths which are located in and around the city. Unfortunately these are not being used to relax in anymore, but because of the beautiful architecture you should definitely not skip a visit.
A typical Bulgarian dish is found underground, at a bakery in the metro station. You should ask for Banitsa, a Bulgarian dough dish that consists of layers of dough alternated with cheese. Enjoy this snack when you're waiting for the metro!
VISIT THE
ALEXANDER NEVSKY CATHEDRAL

The holy Alexander Nevsky Cathedral is built between 1892 and 1912 in honor of around 200.000 soldiers that have fallen during the Russian-Turkish war in 1878. The cathedral is named to Alexander Nevsky, a holy Russian who drove away knight orders from Russian ground. In the crypt of the cathedral you'll find an exhibition where icons out of the 9th to the 19th century are being shown.
Except for two, the Synagogue of Sofia is the biggest in Europe and was opened in 1909. The first preparations for this Synagogue date from 1903, so there's been a lot of work done to this building. The neo-moorish design is derived from the Austrian architect Grünander and inspired by the Sefardian synagogue in Vienna. The Synagogue is not being used anymore, because of the fact that the biggest part of the Jewish community has left to Israel.