In addition to the famous Barcelona and Valencia, Spain also offers this little gem. Many people will even say that this is the most beautiful city in Spain, altough of course you can argue about taste. Experience the old town, the pleasant temperature and lovely streets of this city and decide for yourself!

For example, visit the Jewish quarter of Santa Cruz, one of the most touristic districts in Seville. When you walk through the streets of Santa Cruz, you'll immediately get why it's so touristic. You'll stumble over the atmospheric streets and beautiful patios. You're also at the right place for tapas restaurants! Read on to find out more about the origin of tapas. The most beautiful building can also be found in Santa Cruz: La Giralda. This 100 meter high building from the twelfth century is built in the Moorish style. Adjacent to the cathedral you will find Santa María de la Sede, the largest Gothic cathedral in the world. Keep in mind that you can enter the cathedral fairly limited. Services are still being held.
Real Alcázar, the Royal Palace of Seville, is also worth a visit. This palace is still used by the royal family, but is also accessible to visitors. Enjoy the beautiful dome, various patios and the amazing gardens! Did you know that Seville has 3 city palaces? Each of these palaces has its own special character which clearly reflects the style of previous residents.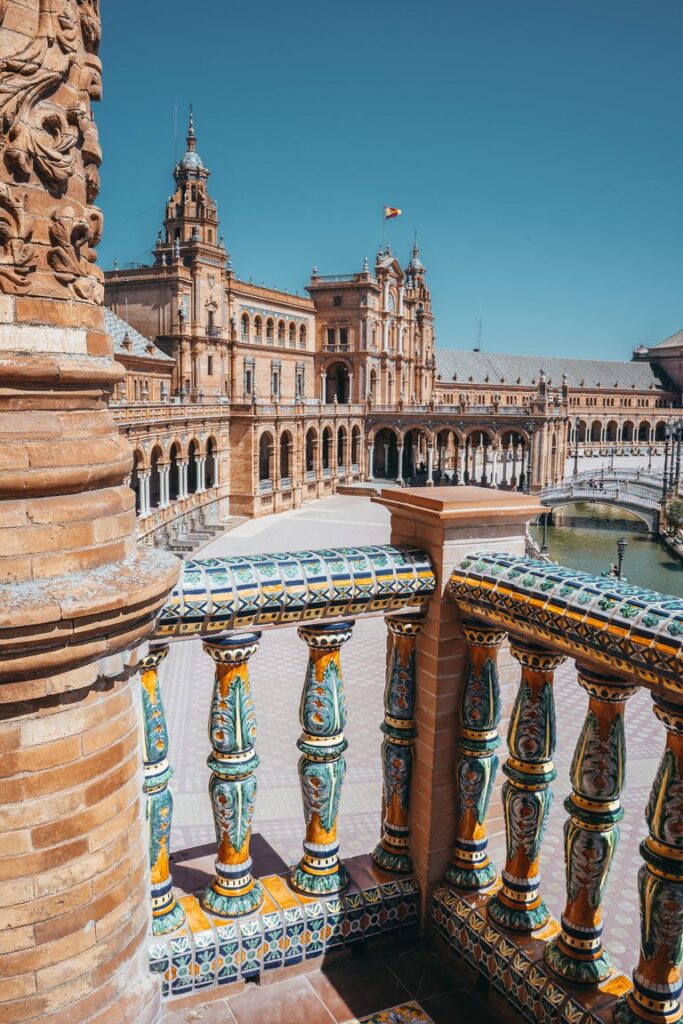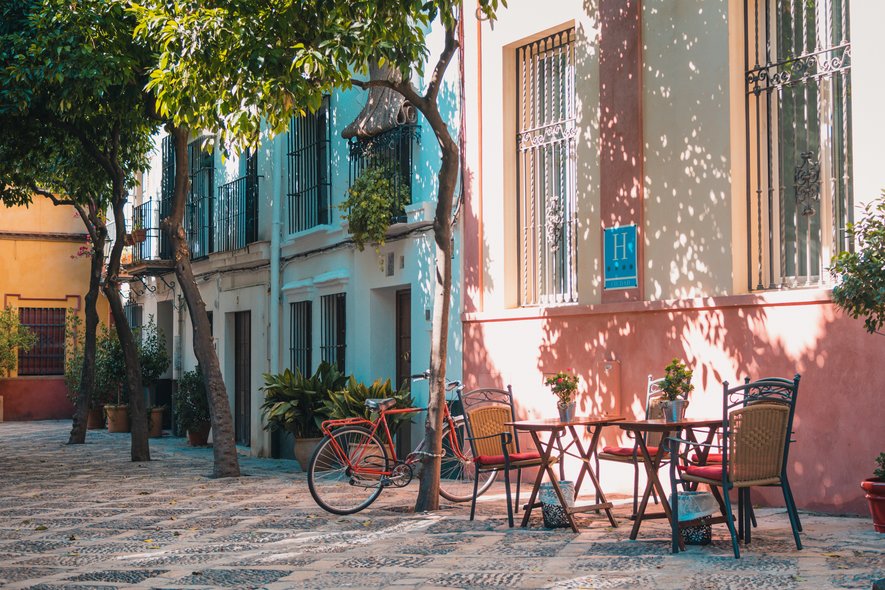 STROLL AROUND THE
COLORFUL STREETS
The Macarena acquires a slightly different meaning in Seville than we might be used to. This is a bustling neighborhood with great nightlife, markets and shops. You will also come across different monasteries and churches in the narrow streets. It is not surprising that you immediately wanted to sing "HEY MACARENA" by hearing the word Macarena, because this song, known by almost everyone, is based on a former resident of this neighborhood! Keep in mind that Seville is not only seen as the most beautiful city in Spain, but also as the hottest. And that is a fact! During summer people take it easy during the day and show up on the streets and terraces.
Tapas are known as small Spanish dishes and what you may not have known is that the origin of tapas is in Seville! It will therefore not surprise you that you can find a lot of tapas restaurants here. The best thing is that it is relatively affordable compared to the Netherlands and the food is really fresh too! A nice way to get acquainted with tapas is a tapas tour. We are happy to help you book one of the nicest tours in town!
In addition to tapas, flamenco is also a phenomenon that stems from Seville. This means there are still many flamenco shows you can attend! Especially in Casa de la Memoria many shows are being held, sometimes even 3 per evening. During the day you can visit the venue, it then serves as a flamenco museum.